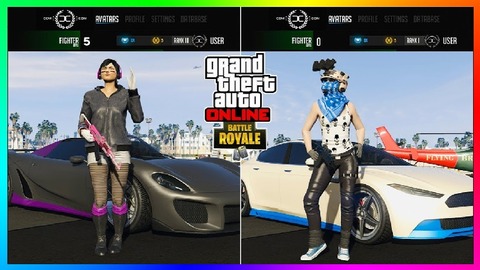 ---
---
GTA 5 Battle Royale Gameplay (Mod)
Grand Theft Auto V(GTA5/グラセフ5)PC版 :流行のバトルロイヤルをロスサントスで体験できる本格シングルプレイヤー用MOD「Complex Control」が話題に、海外プレイヤー"
Dat Saintsfan
"によるゲームプレイ動画。
---
・「Complex Control」スクリーンショット一覧
FORTNITE / BattleRoyale GTA5 MOD
Nerd³ Recommends Complex Control - An Insane GTA V Mod
---
・「Complex Control」 概要 / DLリンク



Complex Control is a purely SinglePlayer mod coded in C# with high replayability and variety. Combining Roguelites and "Battleroyale" elements; it feels as though there's always something new to experience every run.

The mod puts the game into a loop once activated (Menu > Map > Repeat). The mod itself has a dependent save system from GTA's. What sets this apart from the typical BattleRoyale experience are the Abilities (Specials) combined with Roguelite elements - Procedural Gameplay / PermaDeath / Permanent Progression.

"RoyaleLite?" - A lot of people have had concerns over the fact that this is called a BattleRoyale when it is not. And I agree, it is more like a "Horde Mode". You're right. When I said BattleRoyale elements I really meant a shrinking circle and skydivers. I had to edit my mod towards that naming convention for people to find the mod since sources worded it differently; not many sources had called it Complex Control until 2 weeks later.


OFFICIAL SUBREDDIT | OFFICIAL TRAILER

GAMEPLAY VIDEOS
01 | 02 | 03

The mod has a custom user interface, stats page and more. Since this is a script, it replaces no files. Every files are read externally through vnet. Making it very easy to uninstall safely.

CRACKED VERSION WARNING
This mod uses many of the Multiplayer Content. So you need all the Multiplayer Updates. I don't know where you can get them, but you need them. The mod will stop at a specific # when preloading assets if you don't, you will be unable to play the mod. On the Steam version there's nothing to worry about because they are included automatically.

WARNING TO MENYOO USERS - NOT COMPATIBLE WITH COMPLEX CONTROL
I didn't know until I tried the trainer myself, and the results were not good. After installing the trainer and not using it, I noticed it saves your character after death and other things, this breaks the way I scripted Complex Control, as a result they are NOT COMPATIBLE.

I strongly recommend moving Menyoo.asi somewhere else when playing. You do not have to delete Menyoo's folder, just ZIP Menyoo.asi and delete the file for instance.

IMPORTANT - ROCKSTAR GAMES VERSION (NOT STEAM USERS)
For some really paranoid reasons, R* put their website version of the game to ReadOnly, which prevents save games in my mod from being created. You need to have the setting checked off for the mod to launch properly. I'm reading that if you uncheck it the regular way, the settings will revert back to checked. A command prompt is necessary.

1. Open CMD
2. Type: attrib -r "GTAV Folder Path" /s

Note: Where ever your GTAV folder is located. Commonly: C:\Program Files\Rockstar Games\Grand Theft Auto V

REQUIREMENTS - PLEASE DO NOT SKIP THESE 4 STEPS


GTAV with all MP updates (Steam Updates Automatically)



YOU CAN NOW REBIND KEYBOARD KEYS SINCE v2.0
Follow instructions from the "CUSTOMKEYS-ComplexControl.txt" text file.

DEFAULT CONTROLS - KEYBOARD / GAMEPAD


[1-2-3] / [DPAD] Specials (Each characters have 3 unique specials)
[E] / [DPAD DOWN] Blink Teleport
[Q] / [LB] Switch to Primary / Auxiliary weapon
[F] / [R-UP] Instant in/out of vehicle
[TAB] / [R-UP] Exit special vehicle / special info in Avatars menu
[WASD] Navigate mod menus
[SPACE] Accept selection in mod menus
[ENTER] Start Action / Convert Avatar to Royal (Victory Screen)



FEATURES


Royal-Lite Gameplay - Control and survive a deadly zone populated with dropping and driving AIs
Specials - Using 50 unique and balanced abilities with cooldowns
Blink Teleport - Teleport in or out of your vehicle instantly, or reach high ground areas
Fast Paced Gameplay - Faster move speed, Rolling AI, Custom weapon switch and fast vehicle in/out
Streak - Kill enemies fast to earn more points in your runs
Unique Characters - 70 unique characters with their own color sets matching their Weapons / Vehicles
Rogue-lite Characters - Choose from pre-made character sets with random Abilities / Weapons / Vehicles / Names
Royal Avatar - Progress on your own character until they die or trade them for cheaper and with score return
Ranking - 4 ranks to dynamically change gameplay the better or worst you succeed
Leveling - Leveling brackets reflected by total career score gained
Stats - Statistics page to help you keep a track on progress or performance
Color Map Spawn - No spawn is fixated, areas of the map are marked for spawn
Quality Control - Over 1500 hours of solo Development / Redesign / Testing, many Bug / Crash Fixes done
Tweaks - Some weapons were buffed for better experience, shotguns are lethal and realistic (realtime script not permanent)



DO NOT DELETE YOUR "THEAETIK" FOLDER IF YOU'RE UPGRADING VERSION
Replace all files instead or you will lose progress!!

INSTALLATION DIRECTORY - OVERWRITE ALL FILES IF THEY ALREADY EXIST!! IMPORTANT
WITH EVERYTHING ABOVE INSTALLED PROPERLY, EXTRACT BOTH "THEAETIK" AND "scripts" FOLDERS TO THE ROOT GTAV FOLDER AS SUCH:
"...\Grand Theft Auto V\THEAETIK\"
"...\Grand Theft Auto V\scripts\"

(Optional) Set your name in the Username.txt file a few folders in after you launched the mod OR create it here manually and add your name on the first line.
"...\Grand Theft Auto V\THEAETIK\ComplexControl\Username.txt"
Check the Database for tips and how-tos.


PRESS F10 IN-GAME TO PLAY
PLEASE MAKE SURE THAT:
1) IF you have Menyoo - You've put Menyoo.asi away temporarily
2) You've at least completed the first Lester's mission
3) You're not in a mission when you launch the mod!
4) You're not running too many scripts in you "scripts" folder already

COMPLEX CONTROL IS COMPLEX
Please check the Database-ingame for all the info about the meta-game. Most if not all of the basic meta is explained there.

EXIT MOD WITHOUT CLOSING THE GAME
Reload your latest GTAV save. It should work.

KNOWN ISSUES - MAKE SURE YOU DOWNLOADED THE DEPENDENCIES FIRST


It says # Assets Loaded and stops there (Cracked version? You need ALL the MP content updates.)
Mod version appears, then nothing happens (Check Rockstar Version mentioned above)
Cars keep disappearing (you're missing requirement #4)
Cars keep disappearing after reloading your GTAV save (requirement #4 issue, can't fix it myself)
Blink can get you stuck in specific walls
WTF why does it rename me to NAUGHTY BOY? (You use godmode, don't worry you still get points.)



Thanks for downloading!
「Complex Control」ダウンロードリンク:
PlayStation 4 Pro ジェット・ブラック 1TB (CUH-7000BB01)